Porch Column Bases
After making a few of these I can see that one of the details that is good to get right is the diameter of the top section in relation to the diameter of the column where they touch. A good way to measure the column diameter is to use an inelastic line to measure the circumference, and then divide that by pi. I used a bike brake cable and a sharpie for this and it works really well: it's very flexible but easy to hold in place and mark. Then the top edge of the base should have a diameter of 1/4" more than that, to give a 1/8" border around the base -- this seems to look good and is what I see on one the older bases that is intact.
Second Column
Not sure I have the dimensions I used for the first one, but here is what I used for the 2nd:
circumeference: 2' 5-3/4" = 29.75"
D=9.47
Make it 9.5
Add 0.25"
Add 7/8" because top router bit cuts in 7/16 from bearing edge
So final D = 10.625"
I pieced two boards together for this, but a single 2x12 should work (it should be 11.25").
Third Column
Will 2x4s work for the plinth assuming the same dimensions as for the 2nd column? Think so: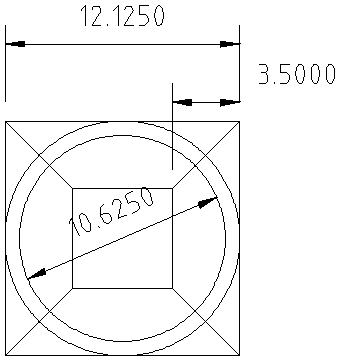 The Custom Router Bit
The profile is like this:

Process
There are 3 layers. Square base (plinth): 45° miter cut 4 pieces, glue and screw together. After they dry, chamfer top edge and route slots (1"? x 1/4"?) in centers on bottom for air. Middle: Use router "compass" jig to cut a good circle 1.5" larger in diameter than the design diameter based on the column measurement. (For example, for the 10.625" diameter above, make this one 12.125".) Use the 1/4 straight router bit for this, taking depth steps of 3/16" or so. Once you have a good round plate, switch to the 3/4" roundover bit. Top: