Home Roof
This sketch doesn't show the front section of the house: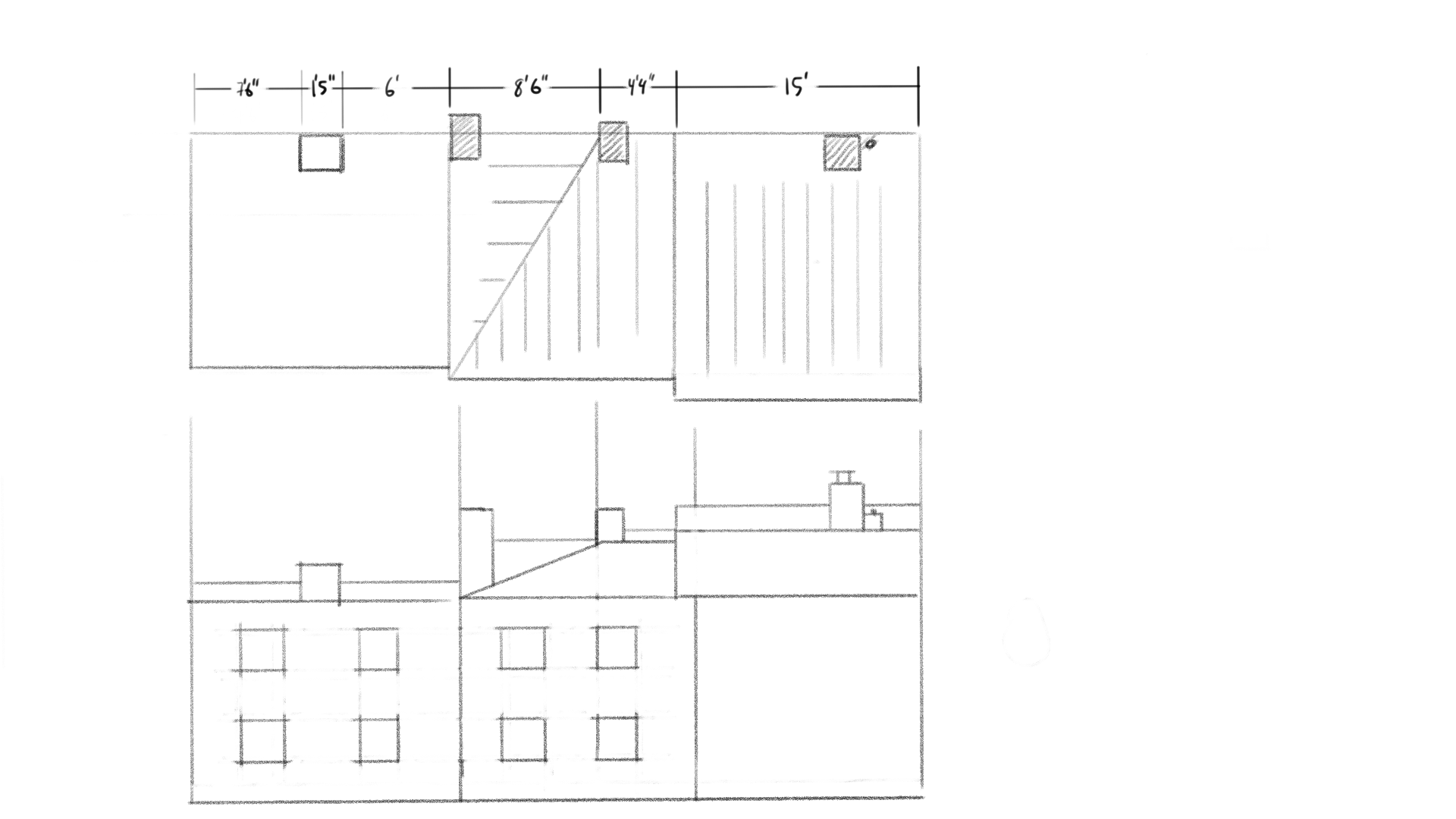 Chimney #2 (counting from Hamilton)
Water leaks into the 2nd floor middle bathroom and around the larger closet in the middle room, and it doesn't look to me like this can be traced to holes in the roof. I am guessing now that it comes from the deteriorating chimmey. This was the case on the front chimney and rebuilding that last summer seems to have helped there. I started removing stucco from this chimney last weekend and found that the lower rear corner (Northwest corner) is unsupported below the roof line, for a few feet. This photo shows the hole after I enlarged it a bit by pulling out the really loose bricks. But there was a smaller hole there even before I touched it.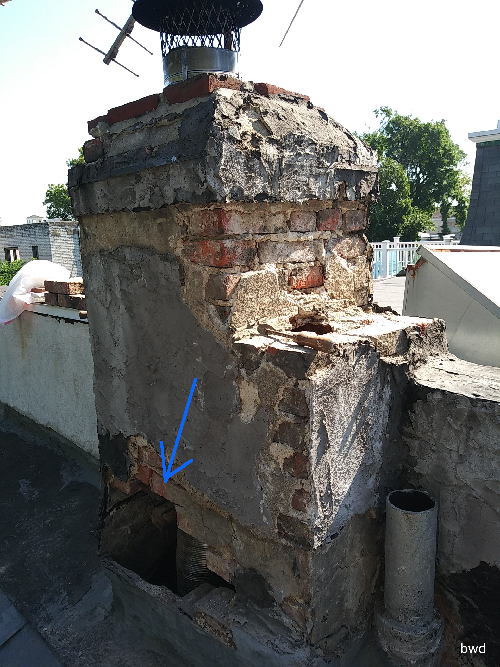 So I
finally
made an access into the "crawlspace" above the 2nd floor and found (a) that is too big to call a crawlspace, and (b) the chimney doesn't look too bad a few feet down from the roof. So the plan is to rebuild the chimney starting from the intact bricks. I had planned to remove all of the upper bricks but this morning I'm thinking I'll see if that is needed or advisable. The existing ones might be a good guide for me if they can be salvaged. --
BenDugan
- 04 Jul 2019 Wound up removing the whole chimney above the roof line -- there wasn't enough holding it together to hang on to any of it. Bricks: "SW" bricks are rated for severe weather, and this is what is recommended. In a forum one person recommended Glengery bricks: GG 52 or 53. The 53 ones have more color variation. --
BenDugan
- 05 Jul 2019 So it's 6 months later and this project is
almost
(!) done. The chimney is in good shape. It took many weekends to rebuild. I think I did ~3 course in a day and lots of weekends I only worked one day. I could do it faster now but nor a whole lot faster. It was hot work in the summer and taking the stuff (bricks and mortar) up the ladder was tough. I flashed around the base and tied it into the roof metal. This came out sort of a "B" I think: pretty good but not stellar. And just recently I reworked the party wall (just our side) to the south of the chimney where it had been badly stuccoed repeatedly, most recently by Oscar. today bought 1 "strap" of bricks at cava for Larkin's chimney. that is 106 bricks.
Links
1.
https://www.oldhouseonline.com/repairs-and-how-to/how-to-install-a-standing-seam-metal-roof
- good step-by-step description of installing a standing seam roof the old way. Shows the use of an anvil for hammering over the seam. 2. Double lock demo video with seaming anvil:
https://youtu.be/p143ioJIQbg